In the first half of 2017, we successfully applied for a BMBF-funded project to establish the cooperation between German universities, research institutes and partners in China. We realized the project in October 2017 and travelled to China for our one week "Travelling Conference". Our objective was to gain insight into the concepts and projects on urban waters in China and to identify new partners who could be considered for a joint application for an EU Horizon 2020 project.
The BMBF funding was used to link German and Chinese players in the field of "Urban Waters" and to exchange scientific results, visions, concepts as well as possible solutions and potential cooperation projects. The BMBF required that the conference with about 50 participants had to take place in three different locations within one week. For this purpose, six partners of our research network flew to China from October 20th to 28th 2017. The group included Salman Qureshi from the Humboldt University Berlin, Bodo Weigert from the Kompetenzzentrum Wasser Berlin, Dr.-Ing. Zhengyue Jin from the Ingenieurgesellschaft Prof. Dr. Sieker mbH, Hao-Wei Chiu from the University of Greifswald and Christian Wolter and Jörg Freyhof from the Leibniz-Institute of Freshwater Ecology and Inland Fisheries.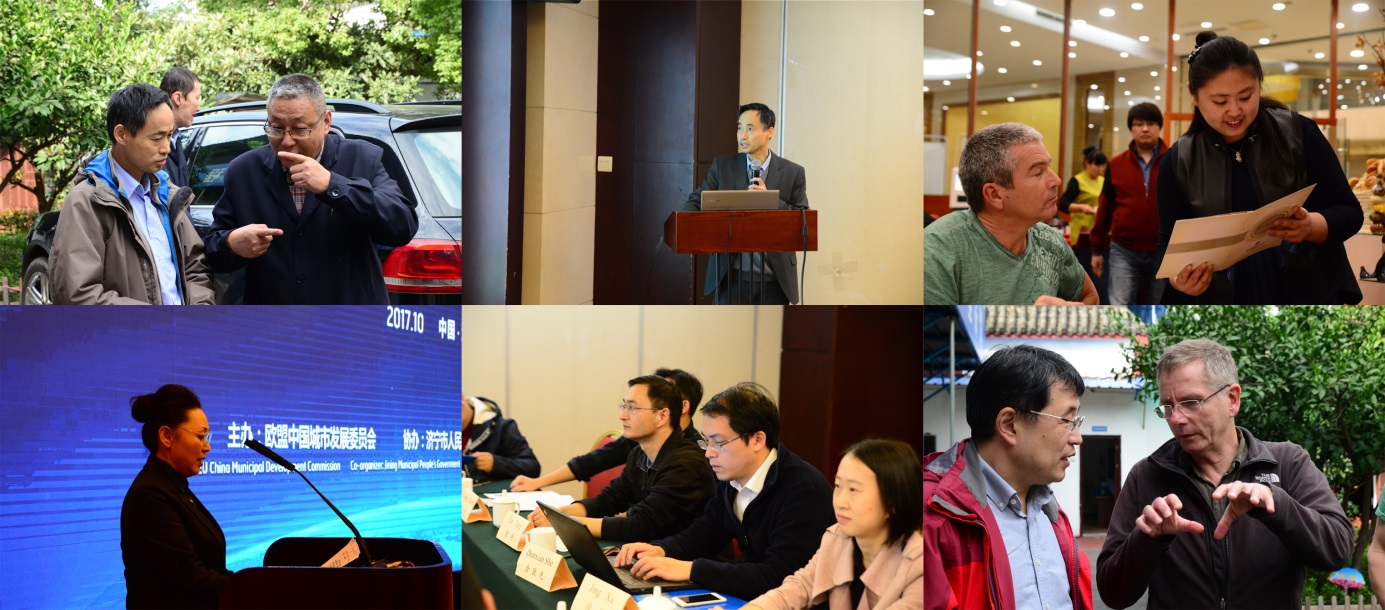 The "Traveling Conferences" was especially useful for networking and exchange of topics, research and implementation projects in the field of "Urban Waters". The developing "International Urban Water Research Network" will encourage the dialogue between the groups of researchers, planners and users, promote German techniques, research results, concepts and visions in China, and provide access to Chinese research results, concepts and visions.
On October 22nd we held a meeting in Beijing in cooperation with the Biodiversity Committee of the Chinese Academy of Sciences (BC-CAS). It included 17 lectures, seven of them from our partners of the research network. The lecturers discussed and presented visions and challenges, case studies on sustainable urban development, implementation of "sponge city projects", "WaterCities" as well as examples of the development and improvement of urban water.
On October 24th we participated in the "Sino-German Workshop on Sustainable Urbanization" in Wuhan, which was hosted by our research network and the Institute of Hydroecology of the Ministry of Water Resources of the Chinese Academy of Sciences and the School of Water Resources and Hydropower Engineering. Again 17 lectures were given, including seven from our German consortium. The lecturers presented a large number of case studies on sustainable urban development as well as numerous examples regarding water pollution. On October 25th we visited some urban waters in Wuhan City, including a sponge city demonstration facility that gave us a very good insight into the methods and techniques used.
Our third conference took place on October 26th in the Jining National High-Tech Industrial Development Zone. 16 lectures were held here, again seven from our German consortium. Unlike the previous conferences, several regional policy makers were present who showed much interest in our ideas and results. The lecturers presented case studies on sustainable urban development, but also addressed many large-scale challenges in urban development and water protection and lead a surprisingly frank discussion. On October 27th we also visited some of the urban wetlands ("Wetland Park") in Jining as well as the "Sinking Lands", which are mining sinks that are built and developed as recreational areas but can be flooded with water.
Conclusion
Our trip to China as well as the three conferences and excursions gave us a good insight into the situation and activities of Chinese cities and their urban waters. At the same time we were always welcomed with open arms, all partners were very dedicated and there was also a remarkable press response to our conferences. Urbanization is very fast and massive in China. Huge new city districts will be built in a short time. Urban waters are consistently developed  and predominantly seen as an opportunity for local recreation. We were able to visit really impressive urban waters that were well designed for the population. In addition, the concept of "sponge city" is implemented very consistently and the Chinese show a lot of creativity and expertise in that field. However, conservation-oriented waterbody development and water restoration are taking place only to a very limited extent and are getting more and more out of the focus of Chinese urban planners.
It was a very interesting trip for all partners of our consortium and as hoped we were able to make many new connections and could successfully win partners for a joint EU Horizon 2020 application.